ZoŽ Krohne and Willie Sordillo Duo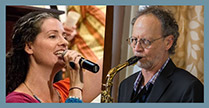 ZoŽ Krohne and Willie Sordillo are an eclectic duo who incorporate elements of folk music, blues, jazz, R&B and contemporary songwriting to birth a unique musical stew. Their music strives to lift our individual and collective spirits, speaking to both personal and social issues. While their performances are entertaining, they strive to go beyond entertainment alone to reach for something deeper which sends audiences home with a sense of hope and a feeling of belonging to a community.
ZoŽ and Willie have been performing together since 2014, leading the music for a weekly jazz worship service at Old South Church in Boston, as members of the eight piece funk/soul/R&B ensemble, the RPS Band, and as a duo. Individually, they have been performing since their early twenties in a variety of settings.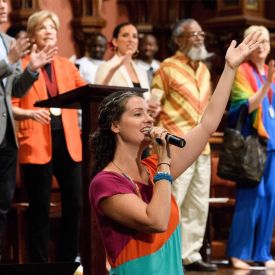 ZoŽ, who possess an extraordinary singing voice and the ability to communicate the soul of a song to an audience, took her first steps towards life as a professional musician at age 17. As a college student in St. Louis she formed the duo ZoŽ and Cory, performing original music throughout the Midwest. Simultaneously, she pursued a degree in music performance and contributed to various bands ranging in styles from roots Americana and blues to rock ní roll, opening for such acts as The Byrds and Ani DiFranco.
More recently, in addition to her work with Willie and RPS, ZoŽ has been a featured vocalist at numerous community gatherings, including Bostonís Pride celebration honoring Sen. Elizabeth Warren, two ďServices of ResiliencyĒ to support survivors of the Boston Marathon tragedy, an inter-faith service of healing at Trinity Church following the election in 2016, and for Mass General Hospitalís annual Black History Month celebration.
Though Willieís primary instrument through high school was the alto saxophone, on which he gained his first performing experience, an interest in North American folk and blues music stimulated a passion for acoustic guitar, which became his instrument of choice as he launched a career as a singer-songwriter following college. While touring nationally, he released two solo recordings on the historic Folkways label, and also produced two compilation albums for the label, which included icons Pete Seeger and Josh White, Jr.


Willieís return to the saxophone as his primary voice came in 1984, when he was invited to be part of a delegation of musicians and artists to tour Nicaragua, which led to the formation of Flor de CaŮa, the band which became his home for the next ten years, touring internationally, recording for the Flying Fish label, and winning multiple Boston Music Awards. For the past 20+ years, Willie has performed in a wide variety of jazz, gospel and R&B settings as both a leader and a sideman. Over the course of his career, he has opened for or played with Pete Seeger, Kurt Elling, Ruben Blades and Avery Sharpe, among others.
ZoŽ and Willie draw from all of these experiences and influences in their work as a duo, with Willie returning to his guitar roots while sometimes incorporating contemporary technology to allow him to play sax and guitar simultaneously. They are excited to bring this new blend to audiences in Massachusetts and beyond!
Here's a live performance of a stunningly beautiful composition by Gregory Porter called Take Me to the Alley performed by ZoŽ, Willie and pianist Marlene del Rosario at the Federated Church of Orleans. (The song starts about 3 minutes into the video.)